Website Optimisation
Today's Internet is a crowded place, and if you're running a small website, getting your voice heard can be a struggle. Psilence Ltd offers the following services:
Website Optimisation Consultancy
Search Engine Optimisation Consultancy
Free advice via the essexmax.co.uk website
Courses on SEO, Optimisation, WordPress and Business Blogging in Southend-on-Sea
Assessing Your Site
When working with clients to improve their websites, Psilence performs the following checks:
Check of a site's current rankings and popularity
A review of the site's code structure, looking for on-page problems
Review of a site's META tags
A check for page faults and coding errors
Site structure and navigation
Review of incoming site links
Search-engine friendly features such as 'Page Not Found' handling, RSS feeds and sitemaps
First steps
We work with clients to add tools to monitor progress. It's helpful to have an initial benchmark, so that improvements can be measured. Typically, we will:
Install and configure stats package, to monitor a site's audience and page popularity
Make use of services such s Google Webmaster Tools and Bing Webmaster to assess site configuration and common problems
Work with a client to fix page problems and site structure issues
Key activities
"On Page": Fixing page and site errors, to make the site attractive to search engines
"On Site": Fixing site linking and navigation issues
"Off Site": Looking at getting more links and more traffic. Normally, this is the clients job, not ours
Site improvements: Some of the most effective ways o aid navigation and to help promote a site
Ongoing optimisation
Unlike many website optimisation companies, we're not interested in taking our client's money for SEO services. We'd rather train you in how to do your own SEO, as you understand your company better than we do.
By explaining how to optimise your site, and providing you with advice along the way, you're in control. We typically charge by the hour, and work with you at your own pace. Sure, it makes us less money, but we find that it's a transparent and honest way of working.
Training Courses
Our team has delivered a number of training courses in Southend-on-Sea, including:
Search Engine Optimisation
Optimising Your Website
Using WordPress
Creating and Maintaining a Blog
Podcasting
Want to know when our next course is running? Drop us an email
Free Optimisation Advice
We run a site offering free advice and suggestions. See www.essexmax.co.uk to find out more about website optimisation.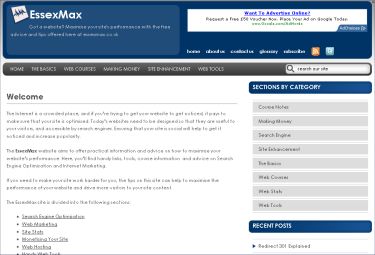 After a bit of free advice. Ask us… you never know, it may save buying a book, or hiring us as consultants.